I'm having a think about future papercraft projects at the moment. This involves seeing what models I can get my hands upon. A good designer should be able to pull from a variety of sources, extractors and conversion tools but there are definitely limits what I can get, as I rely on the work of others to crack open the 3D content of many games.
If I can get a model, I also have to give it an 'appraisal' to see whether it is feasible to pose, edit and build. Not to mention whether it'll look any good when done...
3DS Majora's Mask Link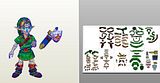 From my secret stash

. Actually this guy is ready for building. Though I am a little worried how some of the head and hair will fit together. Just need to find the enthusiasm.

Skyrim Nightingale?
Via XNALara. I like Skyrim, as old as it is now, and this was my favourite armour in the game. This one is a personal/selfish project as I have extracted the head of my most played character file and was considering splicing it into this, instead of using the default face mask. But the way textures of the hair/eyebrows/skin tone are applied in game is...tricky to reproduce externally.

Hyrule Warriors Twili Midna?
XNALara again. This character model looks amazing and will certainly be better than her appearance in Twilight Princess HD. My last collaborative attempt of this character was competent, but is dated and in a bland pose. A HD update would be cool but there are many concerns with the geometry. The cloak. The cloak! Likely will be very difficult to deal with, not least considering the double-siding.

Others Ideas:
Zora Link, Majora's Mask 3DS
(have a mostly edited version ready)
Goron Link, Majora's Mask 3DS
(partially edited, but simplifying the neck beads is a head-scratcher)
Nick Valentine, Fallout 4
(maybe? If someone can find this model I would be very much interested in having a look at it)
T45 or T60 Power Armor, Fallout 4
(no $380 figure for me. Still, a paper version could be difficult to deal with. Pipes and such.)